Multi-V adjustable bending dies
Adjustable bending dies is the unique patented solution for adjustable opening of lower tools (bending dies) depends of the specification of the bend and thickness of the part to be bent. Possibility of setup (manual or automatic) allows to change the opening of the die without any replacement.
If the factory uses several big traditional fixed dies with big openings the efficiency for the replacement to variable dies could be extremely great - besides the economy and the possibility for more precision setup customer reduces the time for preparations: to change heavy solid dies it is necessary to use the crane and the replacement time could be very sufficient.
We offer configurations from V25 till V400 die opening to be used even with applications with big radiuses bending and thick materials.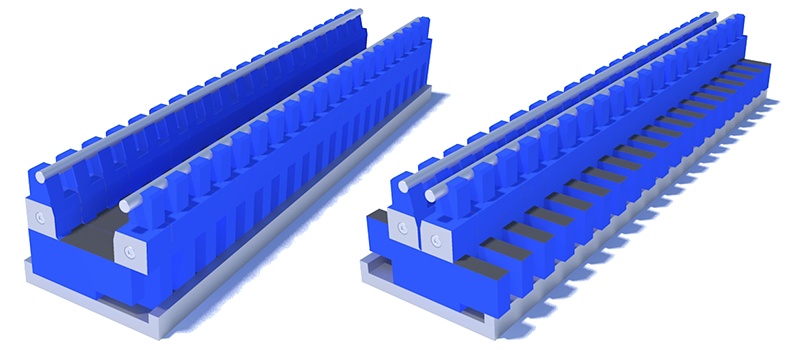 Main advantages
Changing of opening without any dispacement of the tool
Manual or automatic configuration
Great reduction of time necessary for preparation operations, mainly connected with the replacement of heavy traditional solid dies
Economy saving if it is necessary to use different openings at the press brake
Precision adjustment without the connection of fixed opening with traditional dies
Yield improvement of up to 30%
Availability to use with any Promecam or Trumpf-WILA press brake (with tang die holder)
Possible configurations

V-opening 25 – 125 mm, max. possible load 125 tons/meter




V-opening 65 – 180 mm, max. possible load 200 tons/meter




V-opening 120 – 300 mm, max. possible load 400 tons/meter




V-opening 150 – 400 mm, max. possible load 600 tons/meter



Any adjustable die could be supplied as manual setup tool, semi-automatic setup tool to adjust the opening with the handwheel or full automatic setup tool with CNC control.
Adustable die could be installed on press brake to be used with full length of the machine or to use for desired length.
We supply full sets including all necessary bars, holder for your press brake table and protection foil to use during the bending.
Additional
Attention: All the brands, machines, manufacturers and trademarks are used only for the information, are not connected with PRECITOOLS and are property of their respected owners.