Grinding machine for punching tools F-GRINDER (Punch and die grinder)
We would like to present you the semi-automatic grinding machine F-Grinder to sharp and maintenance of punching tools (punches and dies) for various models and systems of punching presses: Trumpf Trumatic, Trumpf Trupunch, Boschert, Haco, Pullmax , Amada, Finn-Power, Prima-Power, Durma, Schiavi, LVD, Strippit, Danobat, Yawei, Nisshinbo, Euromac, Baykal, FIM, Murata Muratec, Rainer, MVD, Tailift, SimasV, Yangli, Peliant, SNK, Pullmax, Hesse-Maschinen, Ermaksan, Dener, ITEK, SMD etc.
Universal machine F-Grinder is suitable for all main tool systems, very easy machine for operation and is the key for proper care of your punching tools for maximal duration of tool life.
On the market there are various versions of grinding machines for punch and dies. Our solution is one of the best choice for the price-possibilities which could be budgetary comparable with desktop machines with much more advantages such as base frame and setup control panel.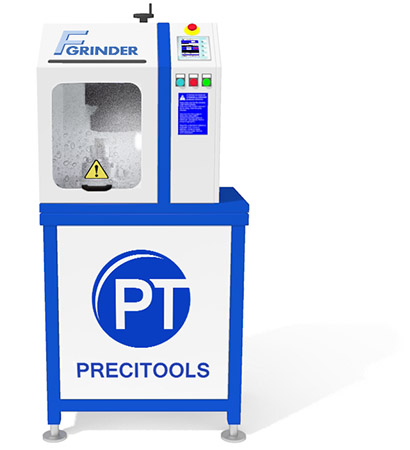 Key features
A - F Stations for Thick Turret tools
Gr0 - Gr3 for Trumpf tools
Grinding of all possible sizes of Multitools (Revotool, XMTE, MTE, MT, Multimatrix etc.)
Angle grinding for forms whisper and double whisper
One universal chuck for all sizes - no additional adapters required
Closed working area to protect operator
Manual mode only to touch the surface, after the grinding is automatic
Control panel SIEMENS Touch with your local language
| | |
| --- | --- |
| | Control panel Siemens with touch screen and touching pen. Simple interface allows to see all main information in one screen. User frindly control allows to start work in one day even for previously unskilled operator. |
| | |
| --- | --- |
| | Work area with closed door to protect from any splashing of coolant and to allow wet grinding inside. Fixation of main door during opening and alarm if the door will be not closed. Door is made with transparent plastic to see all the grinding process. Work area also has internal light. |
| | |
| --- | --- |
| | Universal chuck is the big advantage to compare with manual machine where you need to spend big additional money to have all adapters. With universal chuck there is no any limitation and possibility to grind the tool of all main punching systems including long Thick Turret tools. |
| | |
| --- | --- |
| | Table could be tilted with the adjustment of angle which is important for angle grinding to regrind whisper forms. Angle grinding for punches is important for reduction of force of punching machine and effective cutting for edges of part. You do not need any additional tools to make angle grinding. |
Why grinding of punching tools is important?
For sure every punching tool has mechanical wear and every hit of the punching machine reduces the tool life. There are a lot of different production factors to reduce the tool life in addition, like quality of the metal, thick sheets for punching, use of force and hole sizes near the possible limit of the machine, thin shapes and much more. Moreover weared tool is the reason of the additional burr on the part after the punch and increasing of necessary force -> effects the full machine working life. In this case every operator and user should verify and resharp in time the punch tool to save the good balance in quality and the maximum life of the tool. Delayed resharpening causes the necessity to remove more material and in this case reduces the possible quanity of resharpening cycles for one tool.
Technical details
| | | |
| --- | --- | --- |
| | | F-Grinder |
| Control | | SIEMENS Touch |
| Max. grinding diameter, mm | | Ø180 |
| Max. grinding height, mm | | 230 |
| Dimensions of grinding wheel | | Ø155 x 6 x 5 (CBN) |
| Max. grinding speed, mm/min | | 0,2/min |
| Speed, mm/min | | 600 |
| Rotary table, mm | | Ø310 |
| Angle adjustment, degrees | | 0-10 |
| Tank capacity for coolant, lt | | 20 |
| Coolant pump performance, lt | | 70 |
| Machine dimensions | | 450 x 720 x 1650 |
| Machine weight, kg | | 200 |
Media
Send the request
Please send us your contact information and we will reply as soon as possible.
All "*" fileds are required to fill in
Attention: All the brands, machines, manufacturers and trademarks are used only for the information, are not connected with PRECITOOLS and are property of their respected owners.